Against a top-quality field, Perth's MotoMAX won the 'Expert's Choice' award at the 2019 Royal Enfield Busted Knuckles Build Off.
Photos: Royal Enfield, Ben Pilatti
At the recent Australian Motorcycle Festival in Wollongong, the Royal Enfield display was humming, due in large part to six custom motorcycles created by Royal Enfield dealers and based on Royal Enfield's 650 twins.
Dubbed the '2019 Busted Knuckles Build Off', the Festival marked the public debut of all six bikes.
Six Shooters
The competition kicked off with Royal Enfield calling for submissions from their dealer network for building a custom motorcycle. The brief was simple: it had to be based on the Continental GT 650 / Interceptor 650 twin and it had to be customised. And Royal Enfield meant SERIOUSLY customised – a change of pipes and lick of paint wasn't going to cut it for this competition!
From the submissions received, Royal Enfield selected six finalists, giving each a bike, a budget for the build and a timeframe for having their creation in Wollongong in time for the Australian Motorcycle Festival.
MotoMAX in Osborne Park, WA (a suburb of Perth), was one of the final six, joining dealerships in Sydney, Melbourne and Launceston, as well as Christchurch and Wanaka in New Zealand.
MotoMAX is no stranger to these competitions, having built bikes for past Royal Enfield build offs, but what appealed to MotoMAX's Ric Steele about this latest competition is that it would have an industry-judged element, as well as the usual online fan poll.
"Knowing that it would be judged by a panel of Royal Enfield experts, that definitely raised my level of interest going into the build," Ric explained.
As the base for their creation, MotoMAX used the Continental GT 650 and, given Ric's background in road racing, it's perhaps unsurprising that their proposal had a definite racetrack vibe – specifically endurance racer.
Ric admitted the team actually dragged their feet a little after getting the nod from Royal Enfield for their submission, giving them a tight six weeks from receiving the bike to having to stick it back in a crate to go to Wollongong.
Obviously, the green frame is the first thing that catches your eye with this build. It's an element Ric wanted from the start.
"If I'm going to pull something apart for a show, I'm going to make sure people know I pulled it all the way apart," Ric explained. "Making a feature of the frame was important."
As you can probably tell, the seat unit's been bobbed and a whole new trellis-style swingarm's been added, too, but the rest of the frame's mostly untouched apart from that metallic teal green paint.
Obviously, the finished article has a look of the famous Ducati 750 SS 'green frame', but that wasn't the intention or inspiration.
"It wasn't until it was all together that we went 'Oh, sh*t! That's what it looks like'," Ric laughed. "It's definitely got that flavour to it, but the colour was a personal choice – nothing more than that."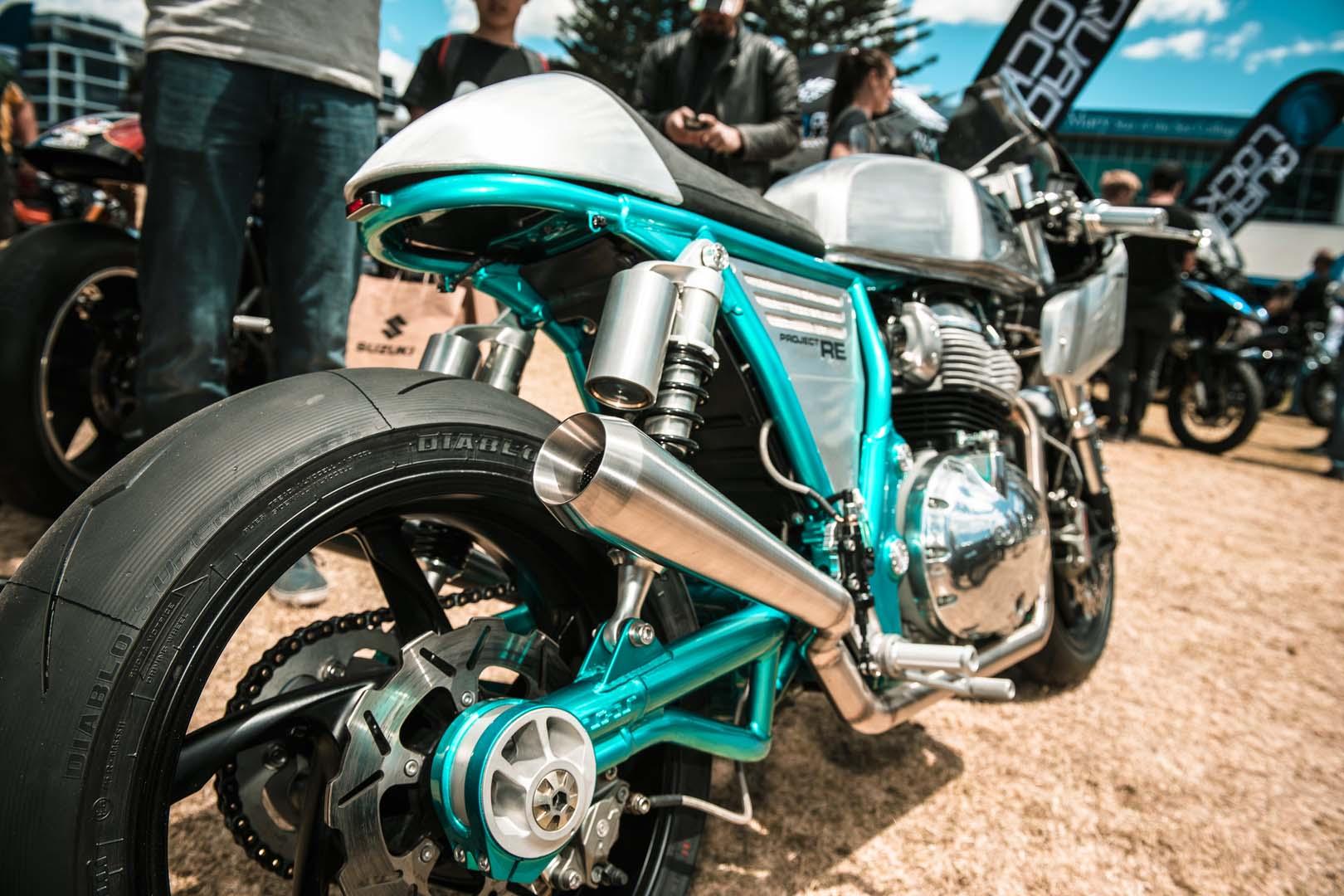 Bare Metal and Bold Spec
Enhancing the frame is the bare metal finish on the factory fuel tank, with the custom fairing and seat cowl getting the same treatment. The side covers, which are items that MotoMAX laser cut in-house, were also clear-coated to match, with the abundance of bare metal leading to the 'Royal Steel' name this custom carries.
Custom exhaust aside, the Continental GT 650 engine internals were left untouched, but the cycle parts got a major makeover, starting with the front end. The factory suspension and brakes were replaced with beefier USD forks hooked up to oversized triple trees. The rims were upgraded to Brembo alloys, with twin Brembo discs, calipers and master cylinder enhancing the stopping power. A Brembo rim and disc/caliper set-up was also fitted at the rear.
Suiting the race inspiration, those rims are shod with Pirelli slicks: Supercorsa SP 120 front and SP 180 rear, to be exact.
Billet clip-on handlebars feature minimal switchgear, while the reverse bracket alloy rearsets are units that MotoMAX also produce in-house.
Group Effort
For this build, Ric and the team at MotoMAX called on a long list of specialty businesses in and around Perth.
"Although it is our build, it's not exclusively a MotoMAX production," Ric explained. "A lot of different businesses were involved – welders, fabricators, painters, trimmers. And nothing was sourced outside of Perth – all the distributors and tradesmen were local."
This team approach has been a good thing for Perth's custom community that's obviously a lot smaller than on the east coast.
"All the guys that have been involved got quite excited about the project and spread that excitement with their customer base. It's really excited the whole scene here in Perth," Ric added.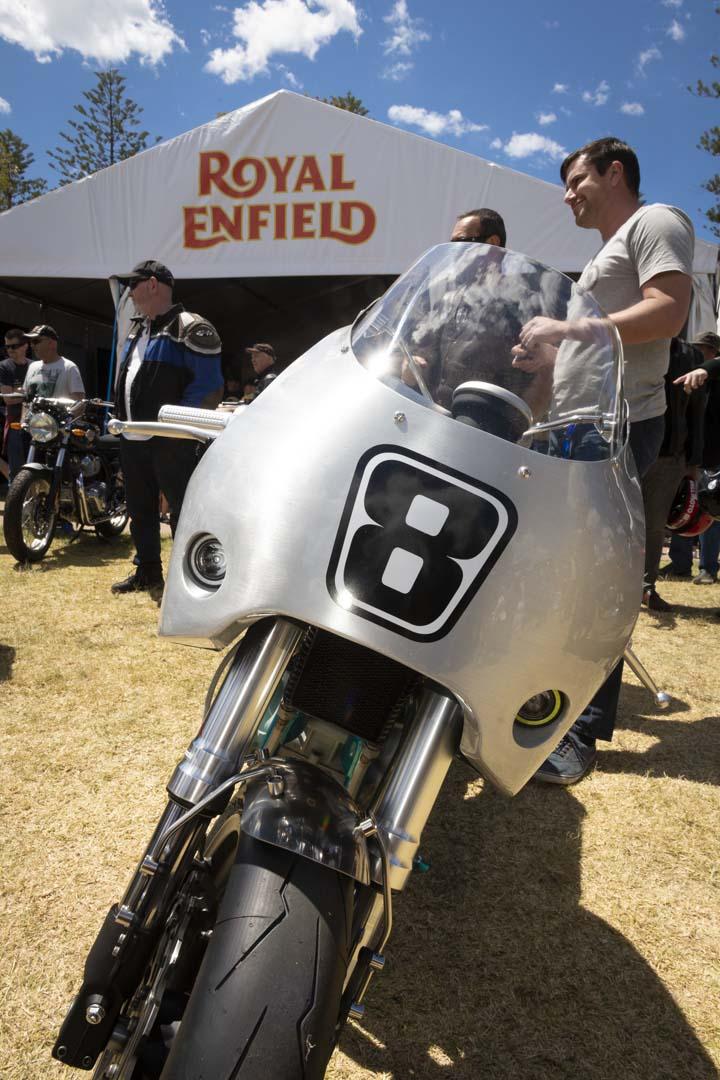 Royal Result
That excitement amped up when Royal Steel won the Expert's Choice award for the 2019 Busted Knuckles Build Off.
"Obviously, we were pleased to achieve what we set out to do. But I knew what we were capable of building and knew we had a very real chance of taking it out.
"When we finished it, I think we said, 'Well, that's an absolute pro'. This is as good as it gets."
So, what's next for this custom? After a "Royal Tour" around the WA custom scene, the bike is going on the market and will likely be formally advertised by the time you read this.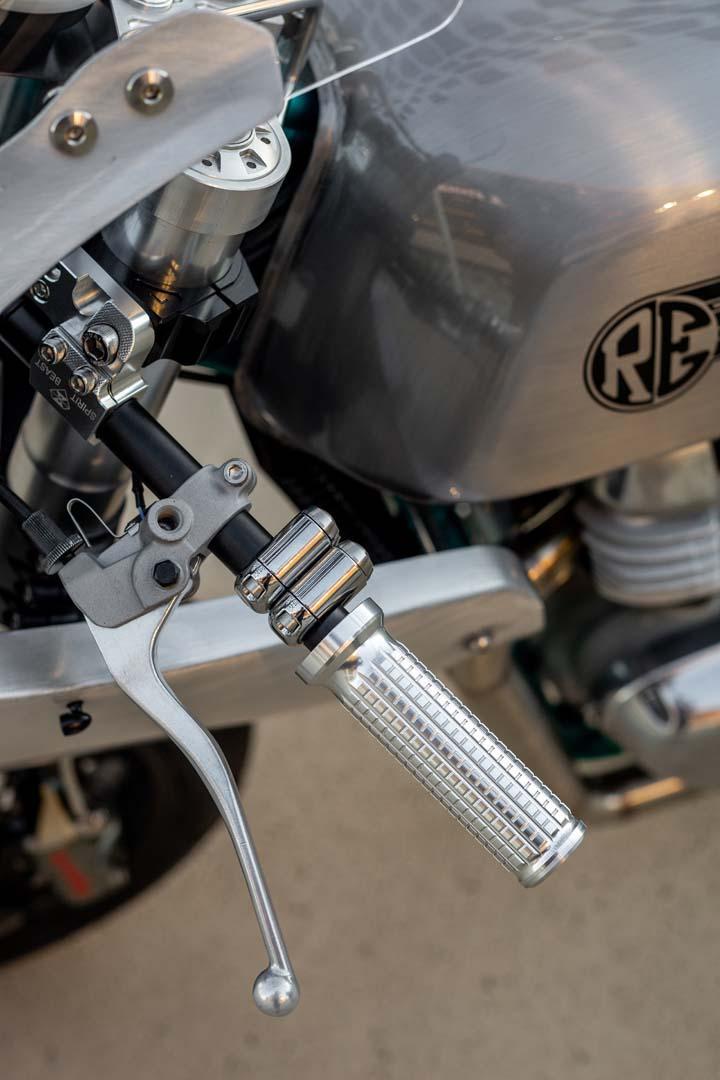 FOR SALE
At time of writing, MotoMAX hadn't set a price for Royal Steel, with Expressions of Interest sought. So, if you'd like to see this one-off custom Royal Enfield in your garage, get in touch with MotoMAX on (08) 9444 4441. To commission your own custom build, talk custom parts and also purchase a new Royal Enfield, reach out on the same number.
For more details on MotoMAX's new and used bike range, hire services and more, go to http://motomax.com.au/